Windows tablets come with the best features giving you the functionalities of both a laptop and a tablet. Whether looking for portable devices as an alternative to laptops or something more robust than regular tablets with more features than just scrolling on your social media, Windows tablets answer all your callings.
It is an ideal choice since they offer an excellent balance between portability, functionality, and power. Besides getting through your day-to-day activities, tablets are powerful, like any computer, and can handle the creative workload.
This guide will list down several Windows tablets for you to decide which suits your requirements best.
The main feature to look out for in a Windows tablet is its power and battery life. Typically, these tablets are used in offices with a keyboard that can be placed on the desk.
Best Windows OS tablets
Microsoft Surface Pro 8
Microsoft Surface Pro 8 is a robust device powered by a Quad-core 11th Gen Intel Core i7 chip, a processor that runs any app seamlessly. The device also has 32GB RAM and up to 1TB of flash storage.
The tablet works great in the office owing to its Microsoft compatibility. The device is a streamlined experience for multitasking. Microsoft Surface Pro 8 is a perfect choice for graphic designers and illustrators as it has a 13-in PixelSense Flow Display with 2880×1920 (267 PPI) and a 120GHz refresh rate.
Windows installed a particular processor in the motherboard to improve the device's touchscreen functionality. The Surface Pro supports Windows 11's haptics, which upgrades the feedback from the screen when controlled by the Surface Slim Pen 2.
The device's battery can last up to 11 hours, making it an excellent choice for office work as it caters to apps for graphic designing, video editing, or gaming.
Microsoft Surface Go 3
Surface Go 3 is a great portable device that weighs only 1.2 pounds and can easily carry between home and work. The 10.5-inch, 220ppi touchscreen with a 1920×1280-pixel resolution makes it very user-friendly.
One of the best characteristics of this tablet is its webcam, which makes it great for conferences and video meetings. This tablet is great for light work.
Lenovo ThinkPad X1 Tablet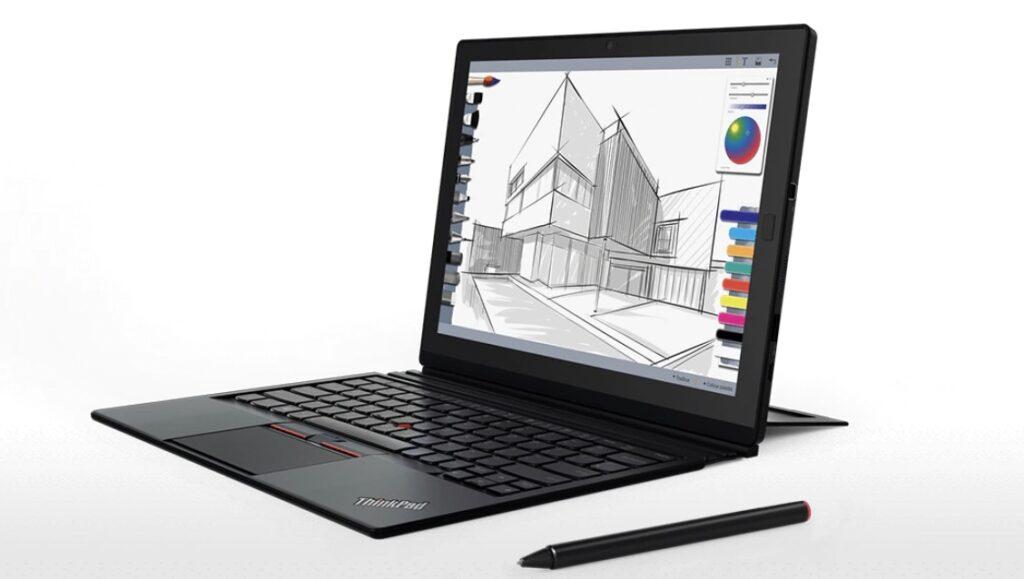 Lenovo ThinkPad came with an attached keyboard for a 13-inch screen and integrated Intel UHD Graphics 620. It has a battery that lasts up to 10 hours.
The device is portable, lightweight, and versatile. Due to the dual Intel Thunderbolt ports, the security of Windows Hello, and the integrated touch fingerprint reader and optional IR camera, it is a perfect choice.
If you are looking for a device that you can carry around at all times with the least hassle, then Lenovo ThinkPad X1 is for you.
Dell Latitude 7320 Detachable
The tablet has a latitude run by a quad-core Core i7-1180G7 with Intel's vPro management technology. It has 16GB of RAM and a 256GB NVMe SSD. While not limitless, this tablet's power is still tremendous for office work and even gaming if you want to relax.
Dell is an excellent option if you prefer something other than Microsoft or Lenovo. This tablet is the only one with a keyboard and stylus included in the starting price, which comes in handy if you use the tablet for both office work and entertainment.
Conclusion
Windows tablets might be better than Apple, but they are reliable, pocket-friendly, and can be banked on for significant work.